MEC Staff
Inspire the future.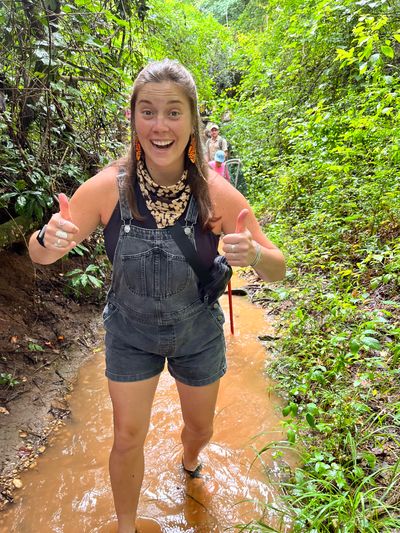 MEREDITH DONALDSON, DIRECTOR
Meredith (she/her) grew up in Central Virginia, and from a young age, has always been happiest when she is outside. After graduating from the University of Maryland with a BS in Environmental Science, Meredith came to Camp McDowell to share this love for the outdoors with others. Here she worked as a seasonal instructor, and eventually as the Operations Manager. Before returning to camp in 2021, Meredith worked as the Hawaii/International Regional Director, and the Director of Logistics for Wilderness Adventures, an outdoor leadership organization in Jackson, Wyoming. Meredith loved expanding her knowledge of outdoor education and getting to explore a new part of the country. She returned to camp to work as the Program Coordinator for the McDowell Farm School, and now could not be happier to be back at the Environmental Center as the Director. As Director, Meredith is excited to continue to share her passion for environmental education, and her love for nature with the many visitors that come to Camp McDowell. In her free time, Meredith loves to try new recipes in the kitchen, take long hikes with her dog Maple, and enjoy a quiet cup of coffee in a rocking chair.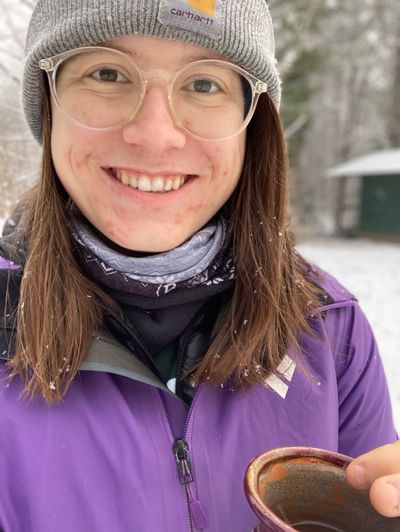 KIM CORSON, ASSISTANT DIRECTOR & ROPES DIRECTOR
Kim (she/her) hails from the great corn state of Iowa. She studied Elementary Education but fell in love with teaching outdoors, not in the classroom. Kim worked for two years as a Naturalist in Minnesota where she perfected her Minnesotan accent. She's also taught environmental education in the Adirondack State Park in New York and in the mountains of Utah. Kim started at MEC as an instructor in 2017, planning on being here just one season…and hasn't left since! She loves her McDowell home and the wonderful community here. Kim has a Masters in Natural Science & Environmental Education through Hamline University in St. Paul, MN. In her free time, you'll find her outside somewhere hiking, rock climbing, roller skating, or admiring lichen.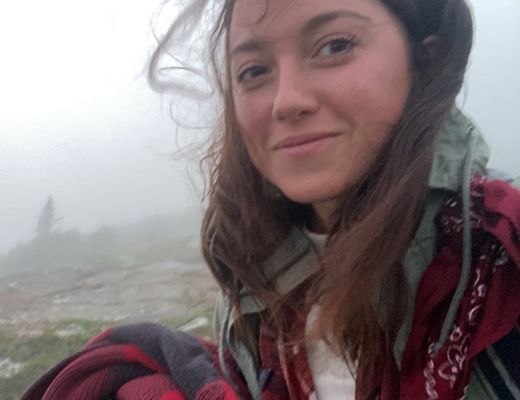 BRITTANY ROHR, OPERATIONS MANAGER
Hi! I'm Brittany! I am from a little bitty town in Pennsylvania called Mars- just a bit north of Pittsburgh. Throughout my life I have always loved to be outdoors, playing games like "crocodile hunter" with my siblings and cousins. As I grew older, and it became slightly less acceptable to play those sorts of games with friends, I found myself drawn to outdoor adventure style recreation. Those experiences lead to an increased interest in the natural world, and my choice to earn a degree in Parks and Resource Management, Conservation, and Sustainability. I have since spent multiple seasons working for MEC, a summer as an interpretive intern for the National Park Service, as well as time as a behavioral therapist and preschool teacher. In my free time I enjoy spending time with people I love, camping, reading, running, yoga and taking great naps. As I have learned through leaving and returning to camp (like, a lot of times), nothing beats the magic that this space has to offer. I look forward to the opportunity to share that with as many people as will let me.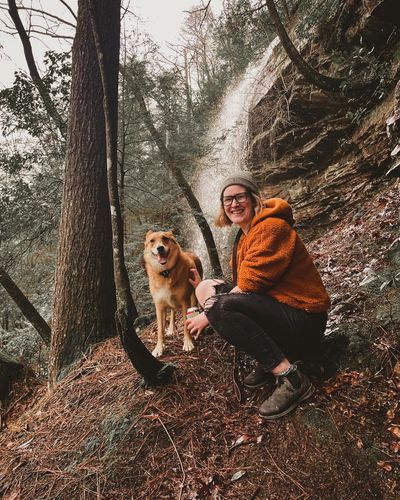 MOLLY KELLY, DIRECTOR OF ANIMAL PROGRAMS AND CURRICULUM DEVELOPMENT
Molly comes from the frozen tundra, Minnesota. After 4 years of studying biology and anthropology in college, her anthropology professor suggested being a naturalist for a year until she knew what she wanted to do next. 8 years later, Molly is still working in Environmental Education and has spent most of her career working with raptors, herps, and an education skunk. After visiting camp for the first time in January of 2021 she fell in love and was excited when the opportunity arose to come back as a staff member. In her free time Molly enjoys spending time outdoors, especially if it involves being in and around the water with her pups Fox and Chaco. When not playing outside you can find Molly listening to true crime podcasts, crocheting, or cooking up a delicious meal to share with friends. Molly still doesn't know what she wants to be when she grows up, but dreams of having too many pets and a hobby farm where she can play outside with her dogs, and grow wildflowers.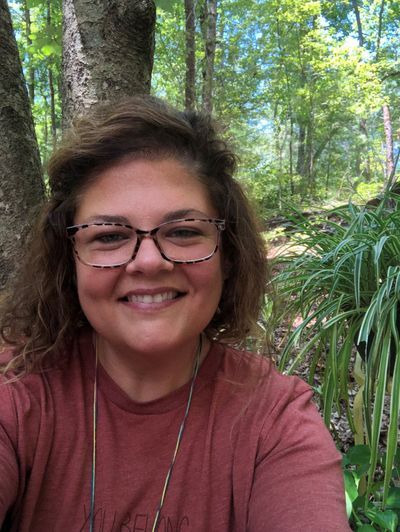 STACEY GLENN, ON-SITE REGISTERED NURSE
Stacey graduated from Wallace State with her nursing degree in 2006 and her BSN from The University Alabama in 2022. She has previous nursing experience in the hospital, nursing home, and home health areas. The summer of 2015 she took the awesome opportunity to work with children here at Camp McDowell for the Environmental Center and Clear Creek Summer Camp. Stacey has lived in the Winston County area her whole life. She now calls Camp McDowell home along with her wonderful husband Brian. She adores her granddaughter Lainey, daughter Alexzandra and son-in-love Austin. Stacey is an animal lover, she has a spunky dog Tucker and two crazy kittens Mao and Miu. Stacey's favorite pastime is traveling, fishing with her husband, canoeing, and anything to do with crafts including pottery and stained glass. She loves spending time with her sister and family, especially her niece and nephews.
Seasonal Environmental Education Instructors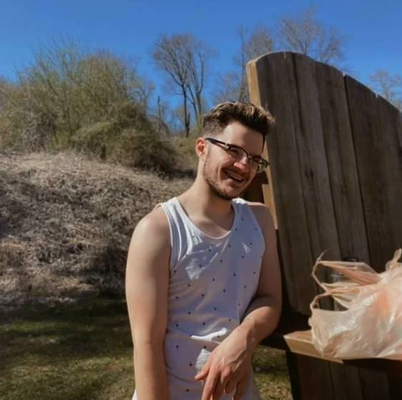 Hunter: Program Specialist: Adventure & Projects
Hey! I'm Hunter! Since I can remember, I've always had a great love for nature. It began while I was in boy scouts and only became stronger as I grew older. I had the opportunity in college to make something more concrete out of that love, so I pursued a degree in Environmental Studies and graduated in 2020. While in college, I became an environmental docent for the university and it made me realize how much I love teaching others about the natural world. Along with my love for nature, in my free time I enjoy rock climbing, going to the gym, playing video games, and going to concerts. I'm excited to connect with so many like-minded people and learn more about the world around us!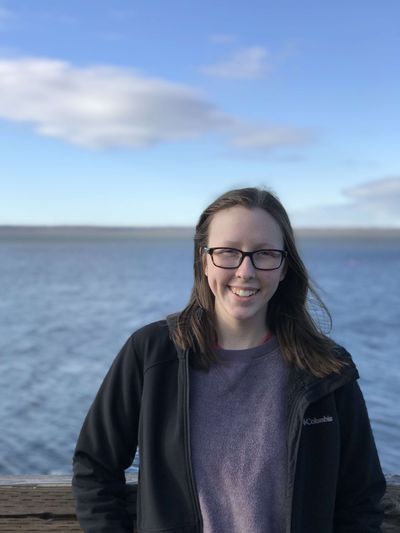 Sarah: Program Specialist: Curriculum & Class Materials
Sarah grew up way out west in Washington State, where she acquired her BA in Early Childhood and Elementary Education. Not quite knowing how she wanted to use her degree, she moved to Tennessee to serve with an education foundation through AmeriCorps. She spent the summer in California hiking kids around the beach. And now, she is excited to be at Camp McDowell where she can do what she loves - teaching - in the big and beautiful Great Outdoors. When it comes time to relax, you'll find Sarah tinkering with music, staring up at the stars, reading a good book, or going out on the town with some friends.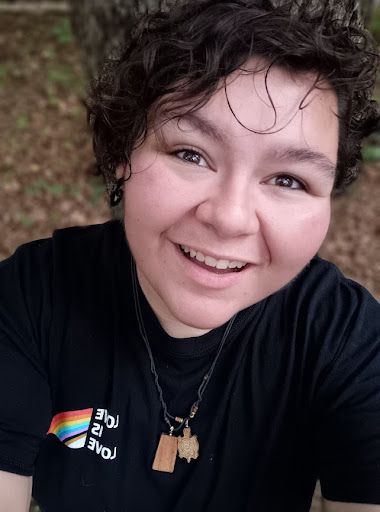 Archer: Community Life Specialist
Archer (All Pronouns) was born and raised around the rural Mesas of Northeastern New Mexico, where cacti and tumbleweeds outnumber humans and even cows. Growing up in an area with amazing natural wonders and biodiversity helped them forge a deep appreciation for the environment, and all that lives and breathes within it. Archer has previously worked across the country in many different camps, and has been teaching Environmental Education for the last 8 years. As an educator Archer strives to use empathetic communication and a love for the natural world around them to help create a better learning environment for their students. On days that Archer isn't teaching you can find them adventuring in many ways. In books, and new cooking recipes, or diving deep into the history of the people before us. You may even get to see them taking pictures along the trail, as Archer loves to practice their Nature photography any chance they get!
"The one thing I hope to do in life is inspire those around me to take a closer look at the things around them and find a love for the things that are misunderstood." -Archer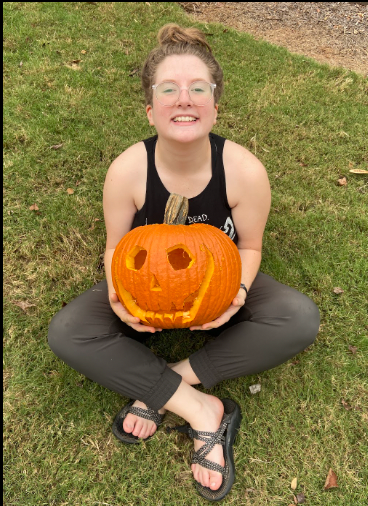 Aech
Hey y'all! My name is Aech (they/them) and I'm from Grayson, Georgia. I grew up playing in the woods a lot and got to college and realized I wanted to do that as a job in whatever form that took-- in walked environmental education! I am so grateful to have this opportunity to share all of the amazing mini worlds in the ecosystems around us. My hobbies include drawing/painting and going to thrift stores :)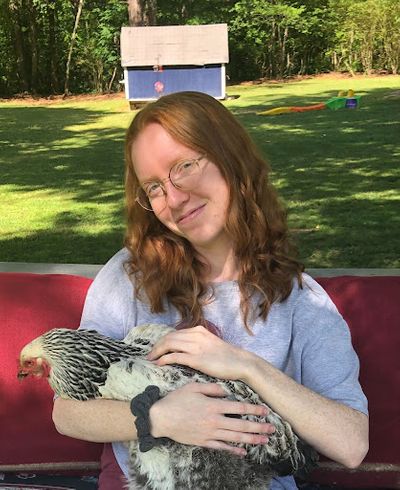 Angela
Hi my name is Angela and this will be my 3rd season teaching at McDowell. I'm from Cahaba Heights in Birmingham, AL and went to school at the University of North Alabama in Florence and got my bachelors in Interior Architecture and Design. Since graduating in 2021, I've substitute taught and will hopefully continue with education in a similar field. Most of my childhood was involved in Girl Scouts, catching lizards and other critters, playing with my cats outside, and playing on my Nintendo DS. In my free time right now I love to go to garage sales, draw, dance, find a piano to play on around camp and take long walks/bike around.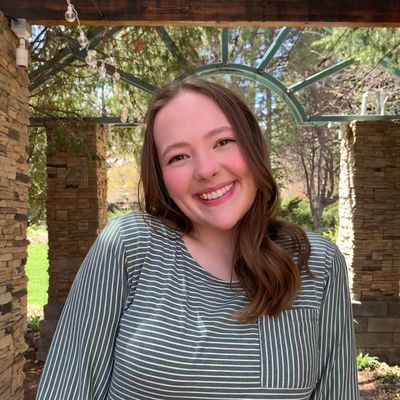 Callie
Callie grew up on a farm in rural southwestern Washington where she spent her childhood exploring its vast woods, rivers, and fields. From a young age she's had a love for the outdoors and environmental sciences. When she got to college, she knew she wanted to continue to pursue this passion. She moved to southeast Idaho where she studied Biology and Earth Science Education. Some of her favorite memories she made there were studying glaciation in Montana/Wyoming and working as a teaching assistant for the biology department. She lived very close to the Grand Teton and Yellowstone National Parks and spent many months exploring and learning everything she could about them. She is the happiest when she is outside, sharing her love of nature and its sciences with others. In her downtime, she loves to play guitar, write, watercolor paint, and try out new recipes in her kitchen.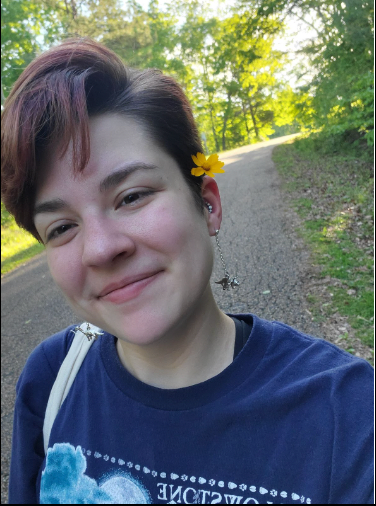 Eden
Eden (she/her) is a born-and-raised Alabamian who loves traveling, teaching, and sharing her passion for the great outdoors. Her favorite subject to teach is herpetology! When she's not teaching, you can find her hiking, writing, or making art out of found materials.
Emily
Hi! My name is Emily, and I grew up in Hoover, AL. My house is surrounded by woods and backs up to the Cahaba River, and I grew up going on outdoor excursions around my house. This led to me getting my Bachelor of Science degree in Urban Environmental Studies in May of 2021. I have worked with kids since I was 16 and am excited for the opportunity to combine two things I am passionate about – the environment and education!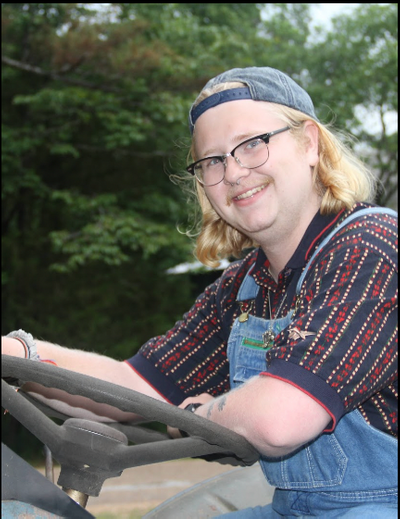 Ethan
Hey y'all, my name is Ethan (he/him), and I am from the now largest city in Alabama, Huntsville. I am thrilled to be back for my third season at the McDowell Environmental Center. Things I can't get enough of are cool rocks, birds, books, movies, and road trips. I love going out and exploring the wonderful world that is the Bankhead National Forest to gain a deeper understanding of the things that make Alabama one of the coolest places on the planet!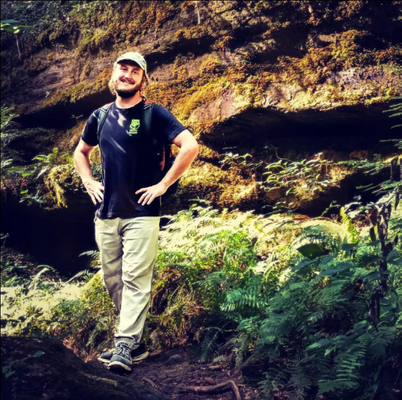 Graham
Hi Y'all, I'm back in Alabama for the fall!!! During the spring semester I was in the Blue Ridge mountains exploring the Pisgah National Forest with North Carolina outward bound school. Then my summer began with Wilderness Adventures who sent me to Driggs, Idaho and Jackson, Wyoming to train for the White mountains trip in New Hampshire and Maine. Spent some time in Missoula, Montana with Montana Outdoor Learning Adventures traveling all around the western Montana mountains. Can't wait to be in the Bankhead National Forest again, this forest has inspired me to keep exploring, take chances on life, and bring community wherever I go.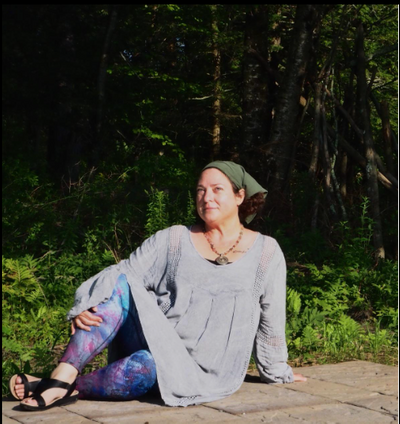 Haven
Haven (she/her) spent some years in which she went to school in various places to get pieces of paper that add a lot of extra letters after her name. She has had the privilege of traveling, learning, teaching and communing with nature all over the world. The longest she stayed in one place was 10 years teaching at an all boys high school in the mountains of Utah. This year alone she's lived, taught, learned, and experienced the magic of our natural world in New Mexico, Germany, and Pennsylvania. However she's MOST excited about being at Camp McDowell. This is the first time her travels have brought her to the south, so she's looking forward to discovering the beauty of Camp McDowell with you. In her down time, you'll probably find her practicing yoga, cooking up plants, or communicating with one of her 9 (all grown up now) children. Warning: she's prone to random outbursts of song and dance.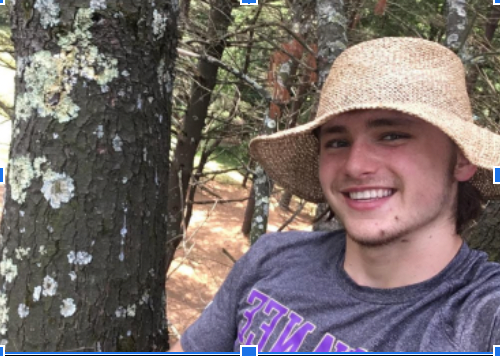 Joseph
Joseph is coming from the East Tennessee side of Appalachia with a huge passion for outdoor education. He recently finished his studies in environmental arts and humanities at Sewanee, where he was able to dive into the outdoor skills that he had always wanted to pursue. He loves exploring and finding new things in his natural environment by running, biking, hiking, caving, creek stomping, and tree climbing. He also loves practicing traditional crafts and bushcraft skills sustainably with whatever he can find. But what Joseph enjoys best about playing outside and practicing cool life skills is sharing that experience with others. He has worked as summer camp staff and a leader for outdoor expeditions and for the last 6 summers and is super excited to come to McDowell for the first time!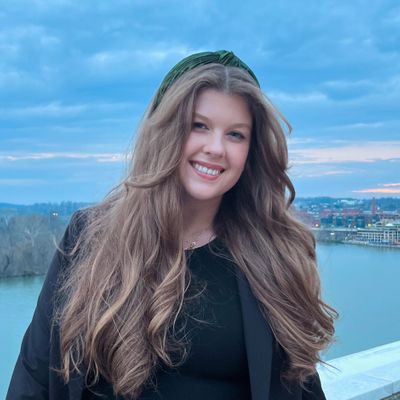 Mary Eliza
Mary Eliza is a recent University of Alabama graduate from Homewood, Alabama. She graduated summa cum laude with a major in Communication Studies and minors in Environmental Policy Pre-Law and Political Science. Mary Eliza attended Camp McDowell grades 4-12, was a CIT (counselor-in-training) after graduating high school, and was a girls cabin counselor this past summer! Her favorite activities at camp are hiking and canoeing, and she is looking forward to her first year teaching students at MEC. A fun fact about Mary Eliza is that, in Kindergarten, she won the title of Recycle Idol during her school's contest for environmental protection awareness. She has been passionate about the environment ever since!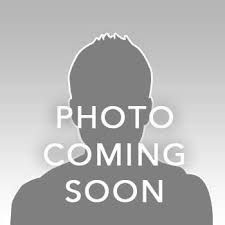 Nate
Nate (he/him) grew up in the Birmingham area. I am a recent graduate from the University of Montevallo with a Bachelor of Science in Environmental Studies. I have always loved the outdoors, hiking, and fishing. I spent many weeks attending, planning and coordinating activities for retreats at Living River Retreat on the Cahaba in Montevallo, Alabama and at Montreat Conference Center in Montreat, North Carolina. I also attended Camp McDowell in middle school and had a great time, of course! I look forward to exploring the outdoors and teaching students about our environment this fall!