Energy
"The greatest threat to our planet is the belief that someone else will save it." - Robert Swan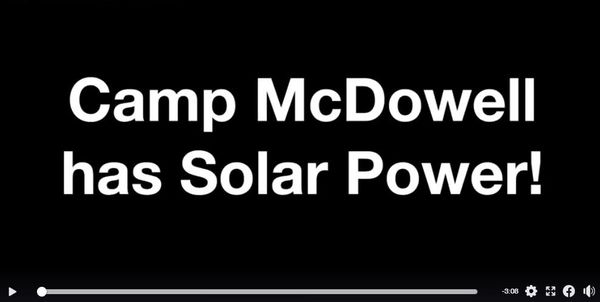 Solar Panels
Solar energy, which is energy captured from the sun, is the most abundant form of energy on the planet. It is a clean, renewable energy resource, and is assumed to play an important part in the global energy future.
Camp McDowell partnered with Eagle Solar and Light and completed a large-scale solar installation in early 2018. This included the installation of 298 solar panels on three buildings, plus a ground-mounted solar array to power two additional buildings. The total capacity of the project is approximately 86.4 kilowatts. Click HERE for details. Savings realized on the monthly power bill for the five buildings goes into a reserve fund that will be used to finance future developments in energy independence at McDowell.
Buildings currently using solar power include the Green Street Market Barn, Doug Carpenter Hall, St. John's Pool House, Phifer Hall, the Chapel of St. Francis, and the Johnston Welcome Center.
In 2019, we saved $15,641 from solar production.
Sloan Lake
Geothermal energy is an energy source that is carried to the earth's surface by water or steam from underground. We use this type of energy, which we derive from Sloan Lake, to heat and cool several of the buildings in Bethany Village, including the lodges and cabins. Sloan Lake was created during the construction of the newest section of McDowell, Bethany Village, in 2015.
By transferring heat through a closed system of pipes, geothermal makes our HVAC systems more efficient. Using the near-constant temperature at the bottom of Sloan Lake to assist heat pumps and cooling units, we reduce Camp's carbon consumption.
Geothermal energy is a renewable source of energy because it's a source that has almost an unlimited amount of heat generated by the Earth's core.