Teacher Workshops Overview
"Education is improving the lives of others for leaving your community and world bettert than you found it." - Marian Wright Edelman
More teachers every year attend McDowell's Teacher Workshops to fulfill their continuing education requirements. Whether you need the credits, or you just want to expand your curriculum by picking up some new and fun ideas for your classroom, you will find what you need at a McDowell Teacher Workshop! Check out the sessions below.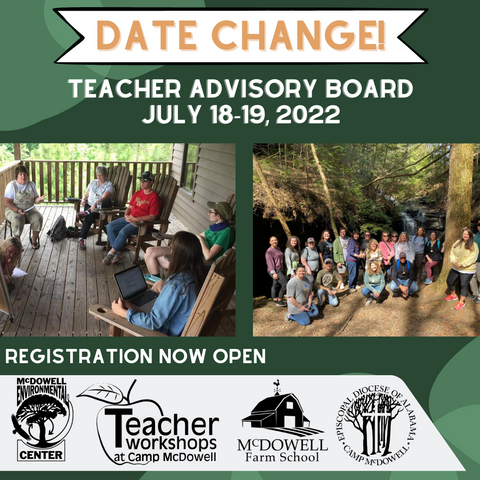 Teacher Advisory Board (July 18-19, 2022)
We want to show our appreciation for teachers and hear your feedback this summer during our Teacher Advisory Board Meeting at Camp McDowell. Come spend a day with us exploring and enjoying camp, discussing ways to improve our educational programs, and getting professional credit along the way. Even if you've never brought a group here, your feedback and ideas are welcome. Bring your teacher friends so that they can see the magic of McDowell too!
Registration link here! Email mecdirector@campmcdowell.org with questions.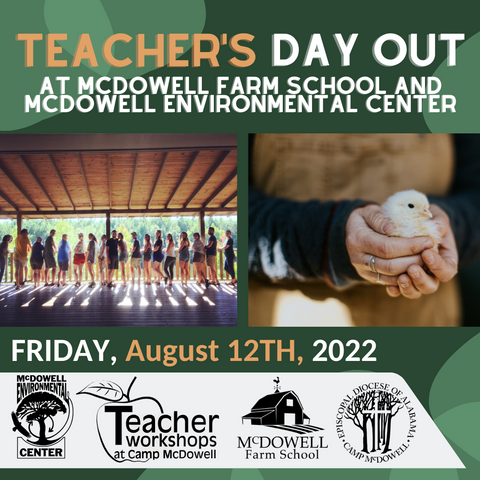 Teachers Day Out (August 12, 2022)
The McDowell Educational Programs are excited to have at Camp for a teacher workshop. Come join us for a day at camp full of exploration and collaboration. Teacher's will have the opportunity to experience programming from both the Farm School and Environmental Center focused on ways to get your students outside and excited. From rejuvenating that empty garden bed to exploring the trees around your school's campus, we are here to inspire and spark ideas for more outdoor inquiry based education that you can take back to your students.
Registration information coming soon!