Recycling
"There is no such thing as 'away'. When we throw anything away it must go somewhere." – Annie Leonard
McDowell incorporates into everyday life actions that reflect our strong belief in the significance of recycling. Below are some examples of how we address recycling as it relates to:
Bales of crushed cans inside McDowell's Recycling Center

Outside front view of McDowell's Recycling Center

Crushed glass from inside McDowell's Recycling Center (we are no longer handling glass due to issues with the glass crusher)

Sign on the McDowell Recycling Center

Bins of plastics inside McDowell's Recycling Center
Throughout our facilities, recyclables such as food waste, cardboard, aluminum, paper, and plastic are collected by staff and processed accordingly. Food waste is brought to the farm where it is used as feed, fertilizer, and compost. Other recyclables are brought to our on-campus Recycling Center where they are crushed, bundled, and/or packaged to be made ready to be taken to major recycling centers elsewhere. Each of our dining halls has outside containers where plastics and cans are collected for pick-up by our maintenance crew.
Since we are able to recycle so much of our waste, we only require one industrial-sized garbage bin that is only emptied once a week throughout the year except for summer, when it is emptied twice a week. our maintenance team does an extraordinary job of keeping up with and managing the various types of waste and recyclables.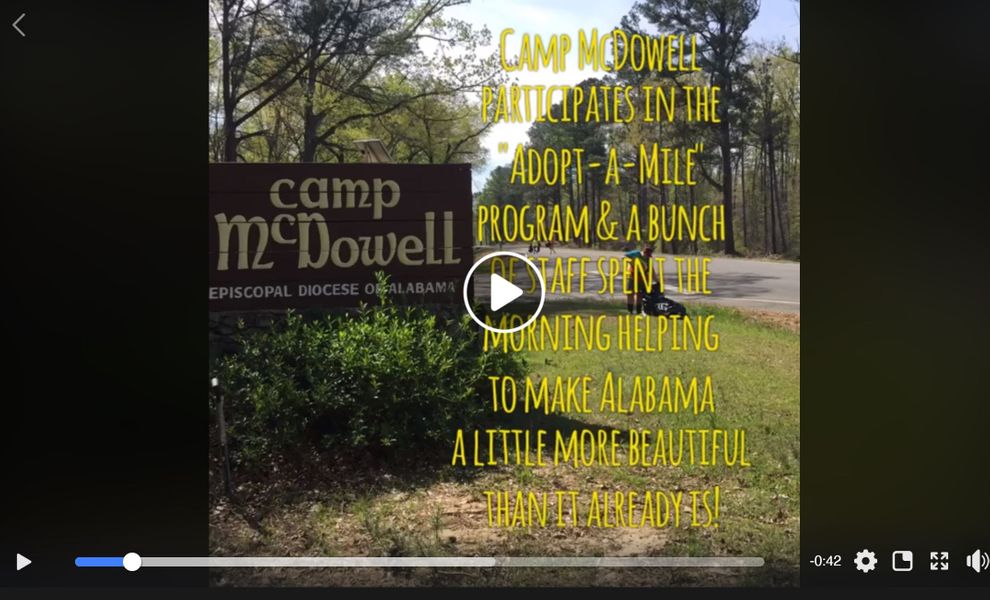 The McDowell Environmental Center (MEC) staff have also taken the lead on additional recycling initiatives, such as putting a more comprehensive recycling system in place for the residential camp staff that enables more items to be recycled, including several types of packaging, containers, and other waste products that we are unable to manage on a larger scale. Additionally, the MEC staff heads-up a periodic clean-up of the mile surrounding the camp entrance for which McDowell has taken responsibility in the "Adopt-a-Mile" program (see video from a few years ago.)
Lastly, recycling is taught in-depth to students, teachers, and parents through the McDowell Environmental Center and is taken out into the classrooms of Alabama through our Educational Outreach programs.
McDowell's Guests and Campers will find it easy to join in on our efforts to recycle everything possible. From lodges and dining halls to the Camp Store and most meeting areas, recycling containers can be found around every corner. Everyone that dines at McDowell receives a quick lesson on how to clear the tables and where to place recyclables and usable food-waste (some special events might have slightly different clean-up methods).
Other McDowell recycling practices Guests and Campers might notice:
Students and teachers that attend the McDowell Farm School experience and learn about, firsthand, the many methods of recycling and sustainability practices used on our farms. In addition to using solar power and using the food-waste from the dining halls as feed and compost, we capture, collect, and use rainwater throughout the farm. One rain barrel has collected 500 gallons in a day, which provided our goats and rabbits with fresh, clean water! Visit the Creation Care: Agriculture page to learn more about what we do on our farms.