Work at McDowell
"If you do what you love, you'll never work a day in your life." - Marc Anthony
We're glad you're interested in working at Wonderful Wonderful Camp McDowell! Click the buttons below to see available jobs for Summer Camp, the Environmental Center, or the Farm School. Any other job openings will be listed on this page.
Please note: Before any final hiring decisions are made, background checks are required. Also, an online children's safeguarding course is required of anyone working with children.
Conference Center Coordinator-Store Assistant
The role of the Conference Center Coordinator and Store Assistant plays a key role in the guest experience at Camp McDowell. This position will involve guest interaction, group management, and will highlight an individuals communication, management, organization, and problem solving skills. On site housing is available.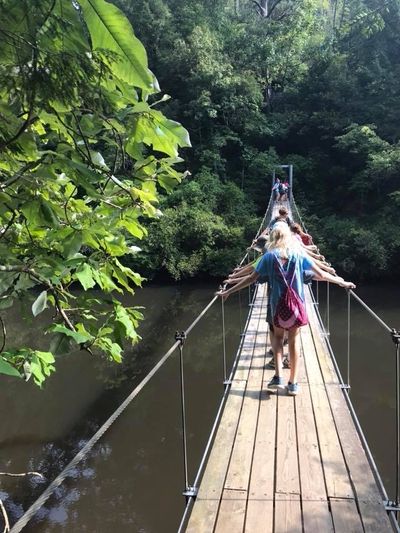 McDowell Environmental Center Director
McDowell Environmental Center is seeking its next Director! This is a full-time permanent job with on-site housing at camp. Applications close October 15, 2021.
Specific Responsibilities include:
Manage, hire, train and supervise McDowell Environmental Center Staff: 15 seasonal & 4 full-time staff
Observe and offer feedback on staff performance
Regular check-ins with Program Coordinator and Animal Programs Manager
Manage marketing and promotion of the McDowell Environmental Center
Actively recruit new schools for program attendance
Promote the program through events, conferences, literature, and other media
Manage finances and budget with Executive Director and Chief Financial Officer
Prepare invoices for visiting schools and yearly calendar with Program Coordinator support
Direct and organize fundraising and scholarship opportunities
Evaluate, update, and direct program curriculum and development
Organize and facilitate annual teacher workshops and classes to introduce MEC to new schools
Teach classes as needed and to stay relevant with program
Provide top notch customer service and create a sense of connection with teachers and chaperones
Support fellow EC staff, kitchen staff, and guests at meals in the dining hall
Please see the attached job description for more details here.
Camp McDowell does not and shall not discriminate on the basis of race, color, religion (creed), gender, gender expression, age, national origin (ancestry), disability, marital status, sexual orientation, or military status, in any of its activities or operations. These activities include, but are not limited to, hiring and firing of staff, selection of volunteers and vendors, and provision of services. We are committed to providing an inclusive and welcoming environment for all members of our staff, volunteers, subcontractors, vendors, and clients.