MEC Hiring Information
"Anyone who does anything to help a child in his life is a hero to me." - Fred Rogers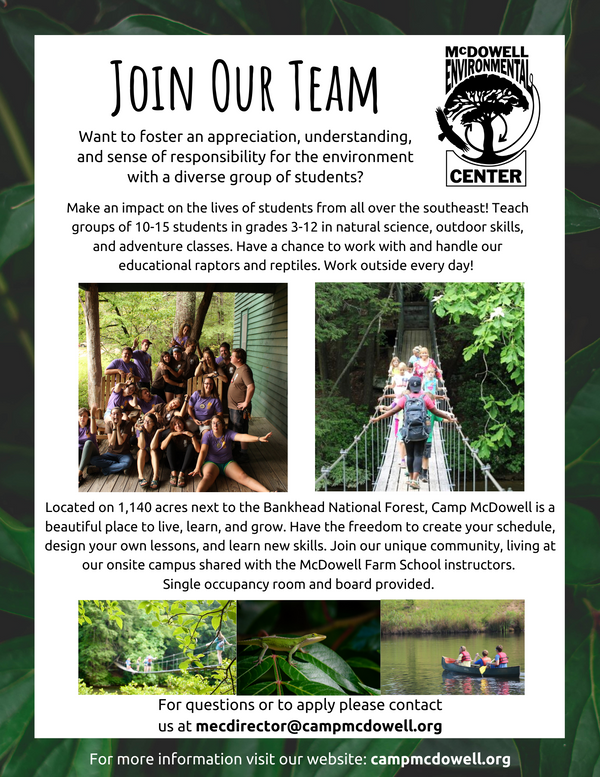 MEC Seasonal Instructor
About this position:
We staff new Seasonal Instructors each Fall and each Spring school semester. We welcome applications year-round for the upcoming season.
Share our 1,140 acres of forests, streams, waterfalls, and canyons in northwest Alabama with groups of students from all over the South. Work with the students to foster a sense of community as well as an appreciation, understanding, and responsibility for the environment. The students, mostly grades 3 - 8, come from a variety of backgrounds and visit our Center for two, three or four-day programs.
Teach engaging, hands-on classes in the great outdoors, i.e., forest ecology, map & compass skills, earth science, aquatic ecology, Native American history, canoeing, team building, and high ropes. Adapt the established lesson plans to match your teaching style and strengths. Assist with program development. Lead recreation and evening programs such as fishing, field games, arts & crafts, campfire songs, astronomy, and live animal programs.
General Qualifications:
The ideal candidate will:
Have a demonstrated respect and affinity for children and a desire to help them learn and grow in an outdoor environment.
Have the following characteristics: enthusiasm, maturity, initiative, sense of humor, flexibility and team spirit.
Be familiar with the outdoors and environmental issues.
Possess current certifications in CPR and First Aid.
Be 21 years or older.
Be able to provide proof of full vaccination for COVID.
All employees will undergo a background check once hired.
Employment Details:
Benefits include meals and on-site housing.
All instructors have private bedrooms, a shared bathroom, a community kitchen, a living room, laundry machines, and large porches with rocking chairs.
If interested, email a cover letter, resume and three professional references to mecdirector@campmcdowell.com.
Camp McDowell does not and shall not discriminate on the basis of race, color, religion (creed), gender, gender expression, age, national origin (ancestry), disability, marital status, sexual orientation, or military status, in any of its activities or operations. These activities include, but are not limited to, hiring and firing of staff, selection of volunteers and vendors, and provision of services. We are committed to providing an inclusive and welcoming environment for all members of our staff, volunteers, subcontractors, vendors, and clients.