Farm Staff
Meet the team!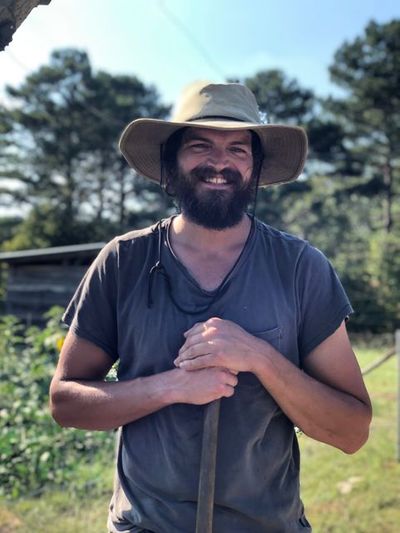 Scotty Feltman, Director
Scotty grew up in the small town of Berry, AL where he roamed the woods and creeks surrounding his house and fell in love with being outside. After high school, he attended the University of Alabama at Birmingham and graduated with a degree in early childhood and elementary education. For the next seven years, he taught fifth grade in Birmingham where he first began using farming as an educational tool. He then transitioned to a high school teaching position within the system where he taught environmental science as well as developed and oversaw the programming and growing of a two acre sustainable urban farm behind the high school for four years through a local non-profit. As part of this program, he ran an internship with high school juniors and seniors growing and selling produce to the surrounding community while cultivating curiosity, hard work, and self sufficiency. Scotty was drawn to camp by the overall beauty and peacefulness of the land as well as the opportunity to live and work amongst a community of environmental educators. As farm school director, Scotty gets to continue to share his passion for teaching and sharing his excitement for the natural world and farming with the thousands of individuals that attend McDowell's programs. Scotty and his wife Julie live at camp with their three children, Samuel (7), Betsy (4), and Susanna (2). He's really really psyched about learning, climbing, exploring with his family, and getting his hands dirty in southern soil.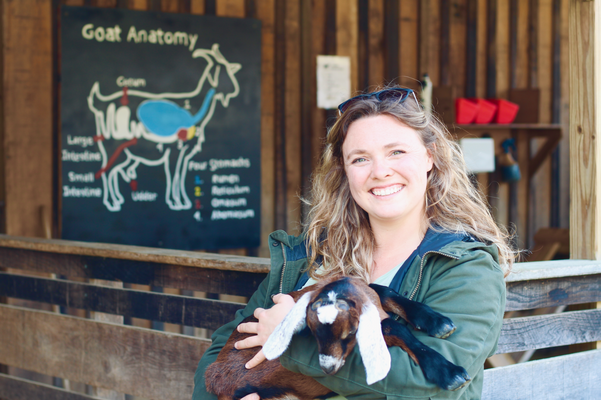 Kelly Baker, Program Coordinator
Kelly Baker grew up in Mobile, AL and it took her a while to develop a love for farming. While attending Auburn University for a degree in Human Development and Family Studies, Kelly was introduced to the world of farming and plants. She received a minor in Hunger studies and began to understand and appreciate the connection between the earth and humans. This connection solidified during her study abroad trip to Fiji where she worked on a Permaculture farm.
After graduating she began teaching and farming at Jones Valley Teaching Farm in downtown Birmingham. This is where she gained valuable experience in both teaching and farming. Her favorite part of the job was coordinating the High School apprenticeship program, where she got to work alongside a small group of high school students in the farm every day.
In July, Kelly led high-school students on a field trip to Camp McDowell Farm School and fell in love with the program! Only a few months later she became the McDowell Farm School Program Coordinator.
She is loving living at Camp McDowell and feels like a real camp person after adopting her new puppy Peanut who was found in the parking lot of a Jasper thrift store.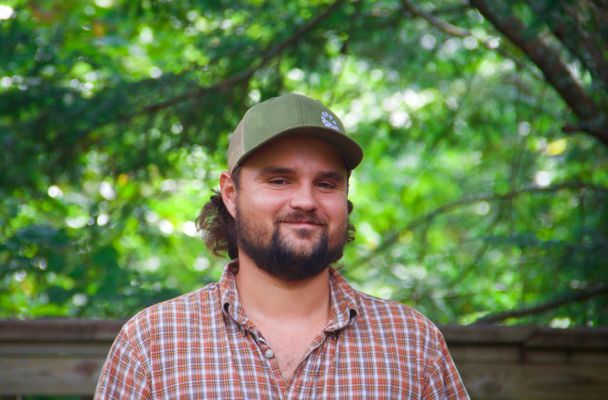 Holt Akers-Campbell, Farm Manager
Holt grew up in Nashville, TN, and came to farming through starting a vegetable garden in his family's yard during high school. He was a student farmer throughout his time at Wesleyan University and after graduation, spent the next five years as a professional market gardener and small livestock farmer. He has farmed in no-till operations, by draft horse power, and with traditional tractor cultivation in New England, North Carolina, Tennessee, and Alabama. While a vegetable grower at heart, he is also a passionate swineherd and loves the art of home butchery and curing. He expects to graduate with a M.S. in Agricultural Education through the University of Tennessee in Fall 2021. He is enjoying exploring the fields and forests of Camp McDowell with his dog, Vergil.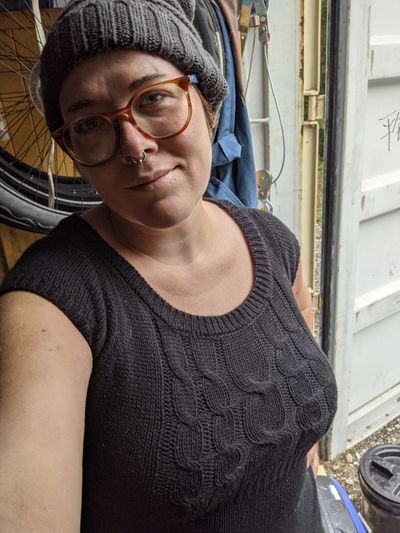 Kendra
Kendra grew up in the Pacific Northwest. She was taught early on by her mother and grandmother the importance and beauty of being able to grow your own food. Never shying away from bringing home a new furry friend, there were always animals around. She began working with children early on in life and has worked in childcare settings as well as being a nanny for many years. Throughout her career she has taken many courses in Early Childhood Education and believes it is important to always keep learning. These last few years she has taken a break from her career path and explored the west coast, traveling in vans or on boats and learning how to live more simply. Being at camp McDowell is an exciting opportunity for her to jump back into work with children while also combining her love of connecting to the earth. Kendra loves camping, hanging with doggos, reading, drawing and generally being in the outdoors.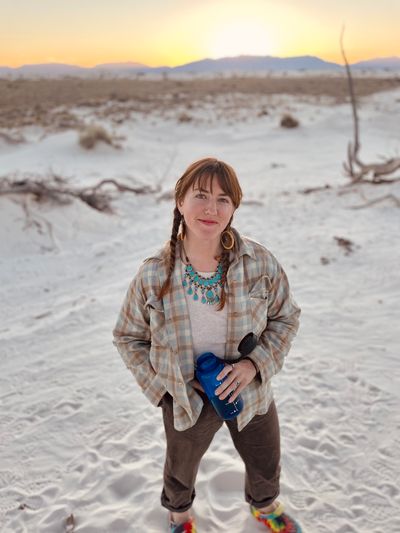 Liz
Liz is originally from Birmingham, Alabama and has felt most at peace outside with her hands in the dirt from an early age. She obtained her degree in Environmental Studies from the University of Montevallo and fell in love with the mission of Camp McDowell while attending the annual Food and Farm forum in 2018, followed by a University field trip. She oversaw operations at the Montevallo Community Garden, initiated a composting program through the campus cafeteria, and spent 3 years volunteering for Cahaba Riverkeeper as the lead Summer Swim Guide intern. With a passion for travel and people, she has lived out of her van traveling the countryside and documenting folks' stories since March of 2021 and is stoked to gain more farm experience through seasonal work while teaching kids to foster a deep appreciation for the land. She also loves cooking, singing, hiking, and making jewelry in her spare time.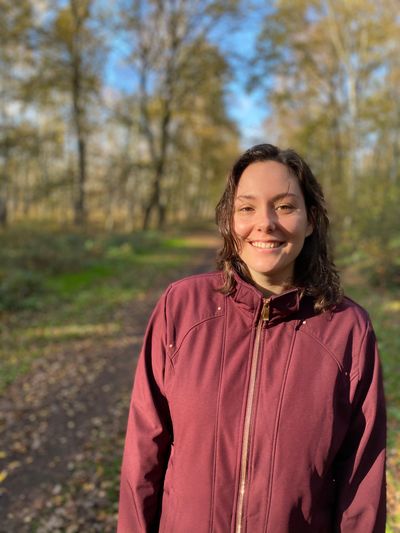 Sam
Samantha is originally from central New Jersey, and most recently lived in Massmechelen, Belgium. Her love for travel started when she volunteered in Costa Rica in 2016. Since then, she has visited 13 countries. Sam's other interests include vegetarian cooking and baking, attending live music events, and agriculture, which brought her to Camp McDowell. She has volunteered at several farms through WWOOF including an urban permaculture farm in Pennsylvania. She looks forward to sharing her passion for sustainable living and nature at Camp McDowell!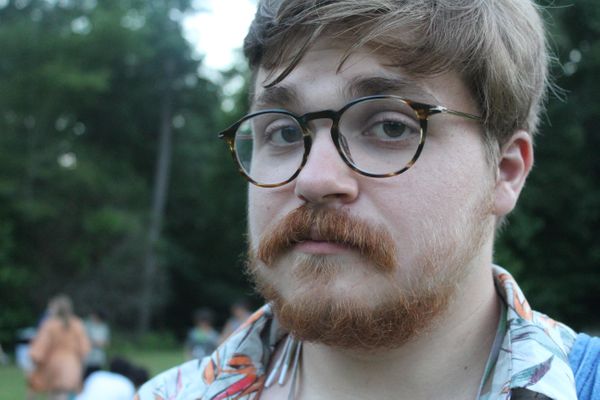 Will
Will grew up along the banks of the Tennessee River in Florence, AL, where he cultivated a deep love of nature from exploring the woods, creeks, and canyons of the Tennessee Valley. He first became interested in agriculture through his grandfather, who would often solicit his help in his garden or take him out to the family farm in Limestone County. Will first came to camp with his church and shortly thereafter came to summer camp, which he went to from 3rd grade all the way to his senior year. Will loved Camp so much as a camper, that he returned for 3 years to staff, and since graduating from Vanderbilt University, is excited to continue working in his favorite place in the world as part of the Farm School. He is beyond excited to share the magic and beauty of Camp McDowell with all of our students and guests. Will enjoys woodworking and the simple satisfaction of a job well done.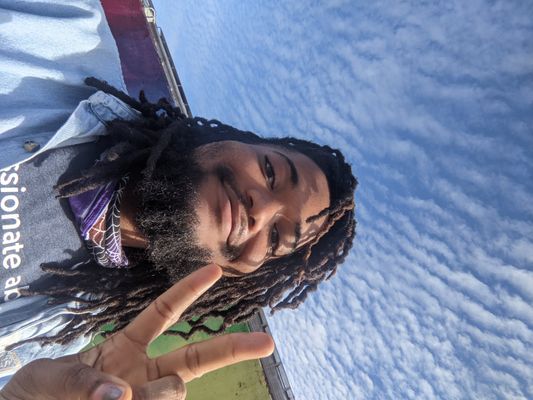 Zee
Zee is an eager learner, and loves hands on work. Zee is from Birmingham, Alabama, and has loved working on farms in the Birmingham Area. Zee did not go to college, but instead chose to dive into the hands on work of farming. When he is not out on the farm, Zee loves video games of all kinds, reads manga, watches anime and cartoons even to this day! Cows are Zee's favorite animal, but he is excited to share with you the other farm animals we have out at the McDowell Farm School!