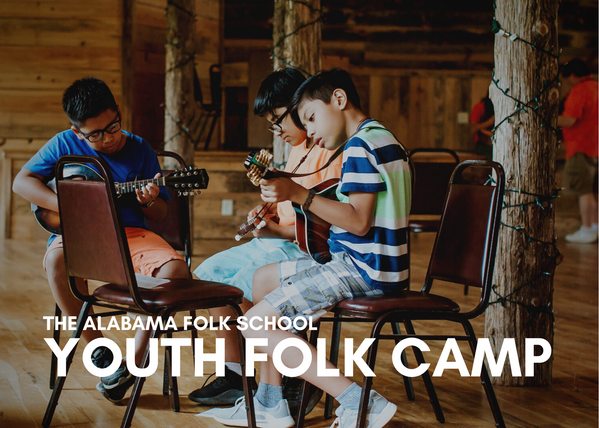 Youth Folk Camp
Join us for Youth Folk Camp - our only Alabama Folk School workshop designed just for teens. Youth Folk Camp is a unique combination of summer overnight camp and folk school instruction in music, art, farming, and more! Campers choose one major and minor class for the session, all taught by expert musicians and artists.
Ages: rising 5th - 12th graders
Cost: $400 (need based scholarships are available)
2023 Major and Minor Choices:
Please note that Farming majors should select a different minor when registering. All other majors are welcome to select the same area of study for their minor. Some experience is recommended, but not required to major in a musical instrument.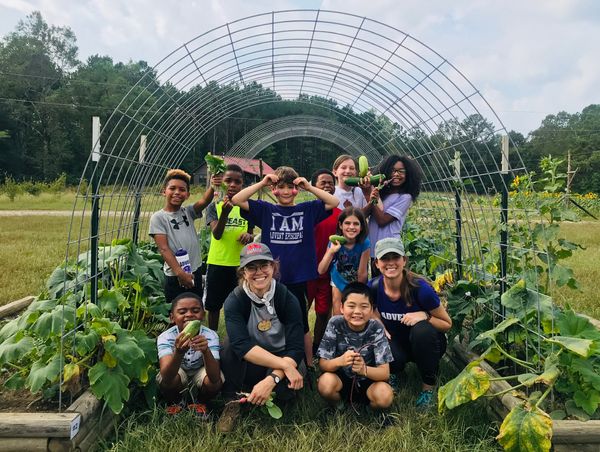 Farming with McDowell Farm School
Campers who major in farming are able to make connections about the foods we eat and how it comes to our plates. Sustainable agriculture, team-work, and hands-on caring for our gardens and farm animals are some of the experiences students take with them. Whether it be milking a goat or harvesting a carrot, students create connections and a deeper understanding of their involvement in food systems. This is an eye-opening experience that will impact the campers for their entire lives. Farmers Scotty, Kelly, and Holt work with teachers and students from around Alabama each school year bringing enthusiasm and a deep wealth of knowledge to Youth Folk Camp. Farming majors should select another practice for their minor. This allows campers to have a break from the heat and hard work of an Alabama summer.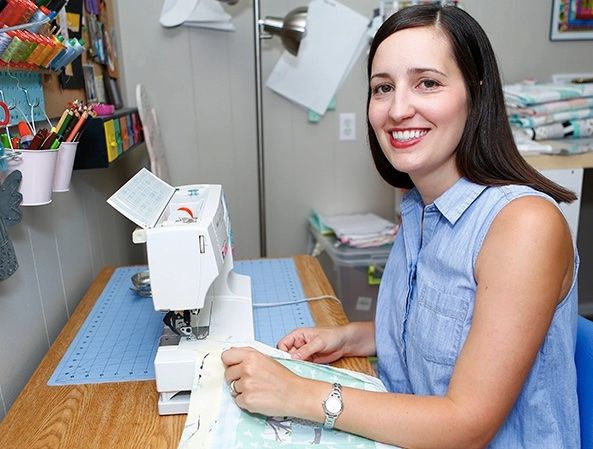 Exploring Creativity through Mixed Media Art with AC Reeves & Jamie Alvey
Come have fun making art with AC and Jamie! We'll be working with various mediums including collage, textiles, printmaking, painting, sun prints, and whatever else we're inspired to create during our time together. Our approach to creativity is low pressure and lots of fun. We hope that you'll leave with some lovely works of art, some new tools in your creative toolbox, and the confidence and inspiration to keep creating.
Jamie lives in Birmingham with her husband and two children. She is a clinical social worker and has a private psychotherapy practice. She is also an artist and enjoys many forms of creating, especially fiber arts, quilting, painting, and playing music (mostly fiddle!). Both personally and professionally, Jamie loves helping people access the power of their creativity in any of its forms as a way to improve wellbeing, strengthen self expression and confidence, build community, and have fun.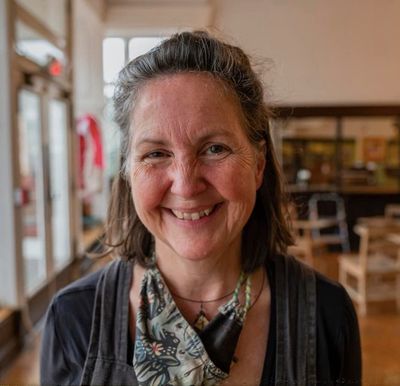 AC is an artist who uses her creativity in all aspects of her life. She recently changed her career, moving out of real estate and development into Hospitality and Tourism. She owns the Woolworth Building in Selma just two blocks up from the Edmund Pettus Bridge, where she has Airbnbs on the second floor and the 5&Dime on the bottom floor. In this building she welcomes all to share space, stories, food and information.
AC is currently hosting a two year monthly art installation at the 5&Dime, giving 25 artists the space to share their art and creative process with the community.
Guitar with Ben Ayers
A musician from age 8, Ben Ayers grew up with the Old-Time, Bluegrass, Country, and Contest Fiddle traditions of his native Middle Tennessee and the Southern Cumberland Plateau, where he currently teaches K-8 Music at a number of local schools. Since 2011, Ben has played guitar, mandolin, electric and upright bass, and Irish bouzouki and tenor banjo in everything from Jazz Big Bands to Rock Trios, but his main focus has consistently been Old-Time and Bluegrass. After several years of regularly performing and collaborating on educational music-projects with virtuoso fiddler, Jim Wood, Ben started the alternative bluegrass band, The Yellow Dandies, with mandolinist Bailey Hill and he continues to teach, write, compose, and explore the world's traditional music.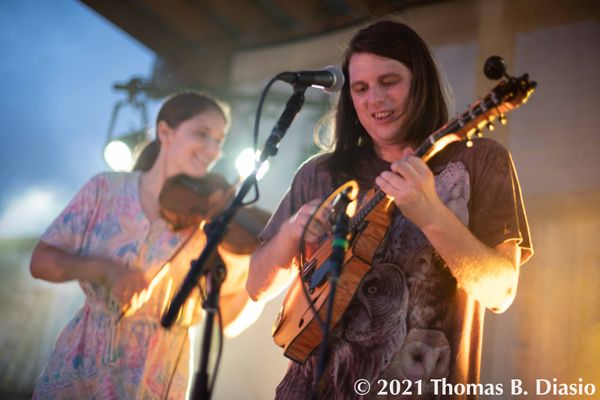 Banjo with Bailey Hill
Bailey Hill is a multi-instrumentalist and experienced songwriter based out of Fultondale, Alabama. He got his start learning Mandolin at The Alabama Folk School at Camp McDowell, and soon expanded his horizons to Banjo and Guitar. Bailey specializes in American Old Time and Bluegrass music but has a firm grasp on contemporary acoustic styles as well. His experience in the world of teaching includes Directing the Alabama Folk School at Camp McDowell, Banjo instructor at The Alabama Folk School's Youth Camp, Ukulele Instructor for the Magnolia Nature Preschool, Youth Songwriting Workshop instructor for The Alabama Folk School, and Private lesson teacher since 2016.
Bailey is also an experienced performer. He has performed at The Acoustic Cafe, Artwalk Birmingham, The Birmingham Museum of Art, Samford University's Children Week, FOOTMAD of Birmingham's Monthly Contra Dances, Bluegrass on the Rim, and many more. Bailey's passion for teaching and performing comes from a fundamental drive of wanting more music in the world. Bailey views music as not just a great hobby or job, but an excellent way to build community and fellowship.
Class Description:
Playing the banjo is hands down, the most fun you can have. In the Clawhammer Banjo class, we will be diving into the technique that makes the banjo dance, and the tunes that make the banjo sing. We will be learning old fiddle and banjo tunes, in a style that was being played way before recorded music existed. We will also spend time learning how to actively listen to old tunes, and the banjo in general. This class will give students the tools to go home and continue their banjo adventures after the workshop is over.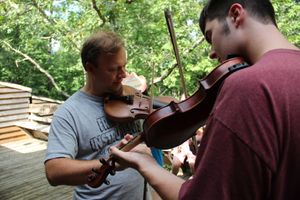 Fiddle with Carter Laney
Carter Laney has been swimming in the old-time music pool for over 20 years. He's a long time Alabama Folk School instructor too! Carter loves studying old-time and traditional styles of fiddle and banjo playing. He lives with his family in Birmingham where he is a counselor and talented oil-painter. You may have seen him playing with his band The Whistlebees!