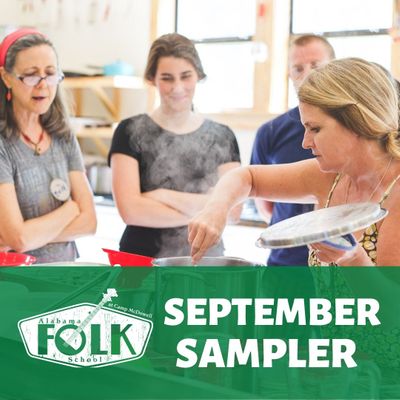 September Sampler
September 4, 2022 9am - September 4, 2022 6pm
Join us Labor Day Weekend for a Sunday long sampler of the Alabama Folk School. Sign up for one of our day classes for an immersive experience or choose a demonstration pass to experience live music, teacher demonstrations in baking, pottery, and more! Options available for lodging and meals throughout the weekend when registering. Choose from one of the following options:
Day Classes:
Day Pass: $60 per individual/$130 per families of up to 5
Demonstration Pass Schedule:
8:30-9:30 am Student check-in, Camp Store
9:30-11:30 Demonstration Sessions; biscuit baking, pottery
10:00 am Farm Tour
12:00 pm Lunch with live music
1:00-1:45 pm Free time; optional music jam sessions, canoeing, pool, guided hike
2:00-3:45 pm Demonstrations Sessions; jam making, pottery,
4:00-5:00 pm Garden to Glass Social Hour
6:00 pm Supper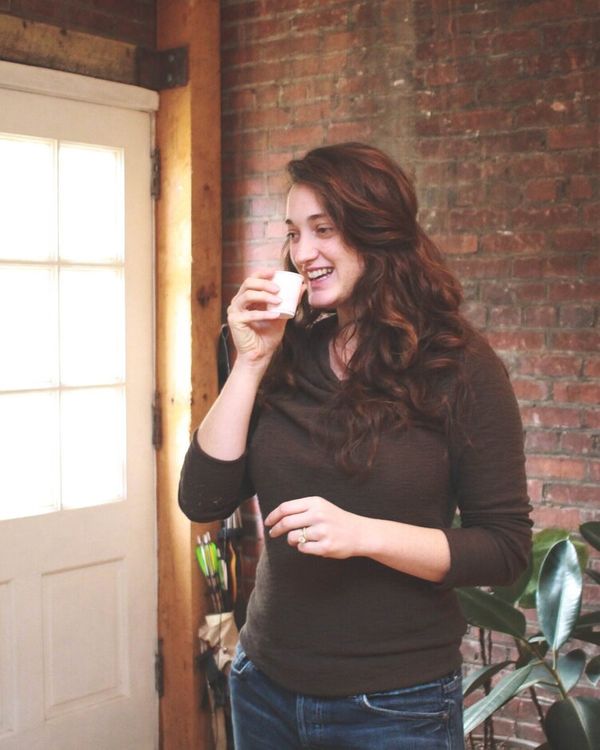 The Art & Science of Tea Blending
9:30-3:30 with a break for lunch & music.
This hands on class will relax, inspire, and expand your tea game!
We will delight your senses and your mind by immersing you into the world of tea. You will learn my three part tea blending hack to create lovely teas constantly. You will also learn how to blend teas to support your health, constitution, time of year, and flavor preferences.
In The Art & Science of Tea Blending Class you will learn:
A brief history of tea and tisanes
The difference between a tea and a tisane
How to properly brew a cup of tea
The difference between a hot and cold infusion and a decoction and when you would choose to use each therapeutically
What constituents extract best in water
How to create the most therapeutic tea blend
How to choose top, middle and base notes for your tea
Learn what your constitution is and what type of tea would best support you
Taught by Clinical-Functional Herbalist Cameron Strouss B.S, RH(AHG), FH, Aromatherapist
Cameron is an herbalist, medicine maker, wild-crafter, and teacher dedicated to educating and empowering people in reclaiming health, community, and connection to the land through herbal medicine and primitive skills. She is the owner and founder of Deep Roots School of Foraging and Herbal Medicine and has been formally studying herbal medicine for a decade. She has over 4,000 hours of Sciences and Herbal Education under her belt along with 7 years of clinical work, professional foraging, and formulating experience. Cameron is a graduate of the University of Montevallo (with a Biology Degree), the Southeastern Institute for Traditional Herbal Studies and The Eclectic School of Herbal Medicine with her Clinical Herbal Certification and has been awarded her FH and RH (AHG).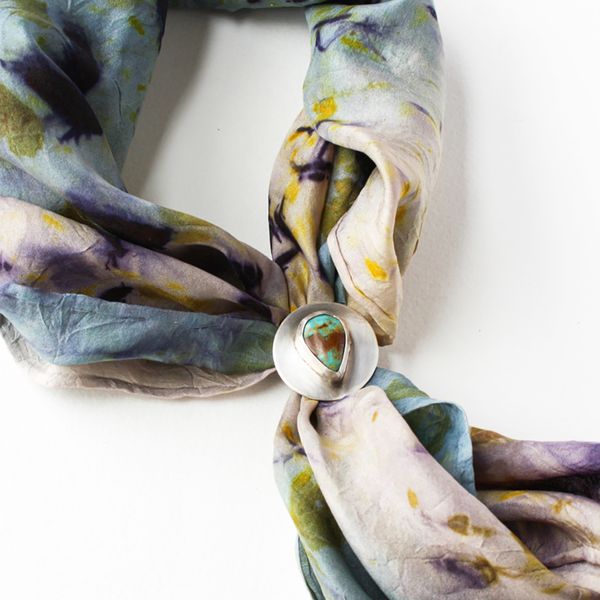 Botanical Dye & Metalsmithing with Nadene Mairesse and Barbara Birdsong
9:00 am -3:00 pm with a break for lunch & music
Barbara and Nadene have developed this collaborative workshop to teach you the basics of natural dyeing and metal smithing in a relaxed environment where we encourage conversation around the creative process. In this 6 hour workshop (including a one-hour lunch break) you will be creating a plant-dyed silk bandana and a sterling/turquoise pendant bolo.
Natural dyer and textile artist Nadene Mairesse will guide you through the dyeing process as you transform plants and flowers into vibrant dye patterns on a silk bandana. You will be introduced to common native dye plants that you can forage to create your own dyed fabrics following the workshop.You will learn how to prepare your fabric for dyeing (mordanting) and how to shift colors on your dyed fabric with acid and alkaline modifiers found in common household ingredients.
Jewelry designer and metalsmith artist Barbara Birdsong will teach you the basic metal smithing skills required to make a sterling/turquoise pendant bolo. You will get a taste of soldering, joining, and stone setting to finish your project.
Together we'll inspire each other, share our knowledge, and honor our individual creative process.