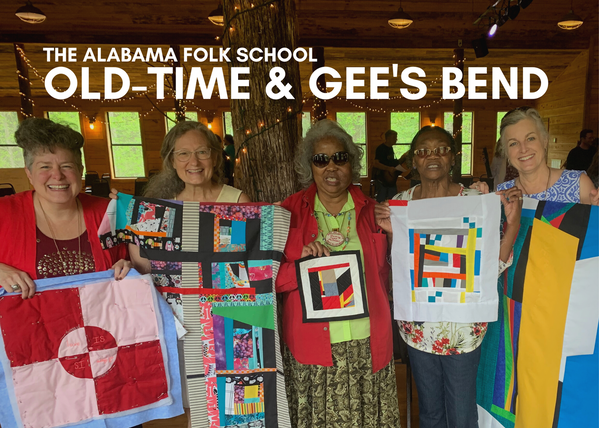 Old-Time & Gee's Bend 2023
October 12, 2023 - October 15, 2023
Join us for our annual Old-Time weekend where quilters and blacksmiths pursue their work while music students fully immerse themselves in old-time classes, their days and nights filled with instruction from master musicians, jam sessions, and an instructor concert. This year's lineup includes classes with the Onlies, Nokosee Fields, and the return of Jeff Claus and Judy Hyman of the Horseflies! Afternoon mini classes give all participants a chance to take part in learning something totally new. With more than 1,140 acres of forest consisting of breathtaking canyons, waterfalls, miles of hiking trails, and glistening streams, there's plenty of exploring to do during your free time. Take a hike, go canoeing, or pick a porch and rocking chair to relax.
Registration Opens March 2023
Classes:
Banjo II with Riley Calcagno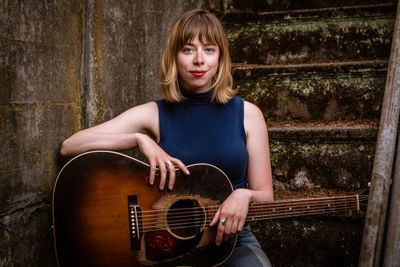 Guitar with Vivian Leva
Old-Time Rhythm Guitar and Vocal Accompaniment- The stuff that matters: boom, chuck, driving the jam, and cracking the code on tunes you've never heard. We will explore the sheer power of the right hand, how to follow new tunes and songs, and what it takes to be the grounding and driving force of any jam or performance. We will also work on backing up old-time, country, and bluegrass songs. Come sing, play, have some fun, and improve your rhythm guitar skills!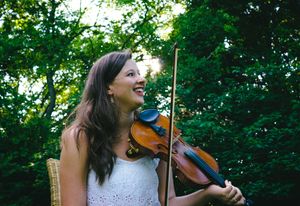 Fiddle I with Sami Braman
Sami Braman has been playing the fiddle since she was 6 years old, coming up amid the music festivals and jamming communities of the Pacific Northwest's vibrant traditional old-time music scene. At 8 she and her long-time musical buddies Leo Shannon and Riley Calcagno formed The Onlies, which plays at festivals and gigs around the country and whose traditional old-time sound they further refined in 2016 with the addition of acclaimed folk musician Vivian Leva. They won the Clifftop Traditional Stringband Contest in 2017, and again in 2019 as "The Ruglifters." Sami is a buoyant, intuitive, and versatile fiddler who values deep understanding of the stories behind the tunes and seeks inspiration from historically marginalized artists.
Sami now teaches and performs across the U.S., primarily with The Onlies and Willie Watson. She has appeared on stage alongside Watchhouse, Laurie Lewis, Bruce Molsky, Elvis Costello, Darol Anger, and Pharis & Jason Romero. In her tune-writing, Sami melds creativity with tradition, producing a number of tunes which have made their way into festival sessions across the country. In her teaching, she brings positive engagement and a high standard that encourages and challenges students. Sami recently moved to Nashville, TN, to pursue music full-time. In April 2023 she released a solo album of original fiddle tunes, co-produced by herself and Brittany Haas. To all her projects Sami brings joyful energy, a driving bow, and an abiding love for the traditional music community which formed her.
In Fiddle I, we will dive into a couple of my favorite fiddle tunes and use them as a vehicle to work on rhythmic bowing, groove, and other stylistic intricacies. I will teach you a couple recommended bowing patterns for the tunes as well as coping strategies for the inevitability of getting turned around (which can often result in something exciting)! We can also dip our toes into ornamentation, double stops, and tone. As an old-time fiddler I think it is essential to be able to establish a strong rhythmic groove instead of relying on other instruments in a jam, like banjo or guitar, to establish it for you. We will work on specific techniques to help build that confidence in bowing and leading tunes. I am excited to engage in a conversation about this fiddle tradition as well as play tunes with all of you!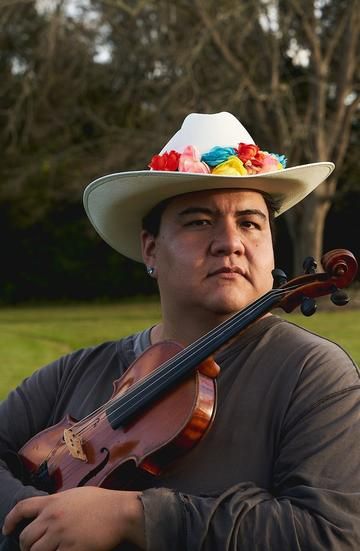 Fiddle II with Nokosee Fields
Over the last few years, musician, artist, and collaborator Nokosee Fields has proven himself to be one of the most provocative, significant, and capable voices in the North American traditional music scene. A quest for balance shapes his work, whether he's reconciling the weight of tradition with his creative impulses; challenging the demands and vacuity of colonialist, capitalist structures and systems with the richness of his experience and upbringing as a member of the Osage, Creek and Cherokee Nations; or simply anchoring the beat in the rhythmic push and pull of the multiple bands in which he works.
The great nephew of celebrated Cherokee fiddler Sam O'Fields, Nokosee carries a longstanding Cherokee fiddling tradition into the present. Through powerful live and recorded performances, he lovingly and playfully reimagines his tradition with immense skills and sensitivity as a performer of traditional fiddle music. His prowess has not gone unnoticed: He's won some of the most prestigious contests in the United States and has performed and taught at flagship festivals and workshops. His recent DIY sourcerror project, released anonymously online, delivers compelling, fresh interpretations of older North American fiddle repertoire. Besides garnering critical acclaim and solidifying his reputation as a leading fiddler and interpreter in the traditional music scene, the project explores the relationships between the archive and embodied performance, using lo-fi audio technologies to critique histories of anthropological field recording practice and the tendency of contemporary roots music industry to fetishize the past. Building off of the sourcerror project, he obtained grant funding to record an album of rare Indigenous, Black, and white fiddle repertoire from North America with his band BOOJUM. Beyond his fiddling, he works as a touring musician, playing bass in the country band Western Centuries and in top-tier Old-time bands Hard Drive and the Onlies. An in-demand recording artist and performer, he has recorded and worked alongside some of the most well-known artists in the field–luminaries like Tim O'Brien and Dirk Powell.
As a musician and artist, Nokosee seeks to restore balance to the unbalanced. In seeking balance, he creates work that is as provocative as it is beautiful.
This class will cover posture, technique and bowing in relation to old time fiddling. We will listen to source material to strengthen our listening skills as well as learn tunes as a vehicle to explore the subtleties of the technique behind a strong and established old time fiddle groove. The aim will be for students to take away information so they can continue to work on their own and explore the individual work ethic required to make a competent sound.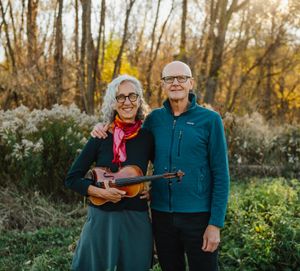 Old-Time Repertoire with Jeff Claus & Judy Hyman
Class Description
We're excited and honored to return to AFS in 2023, this time to lead the repertoire class. We look forward to sharing, teaching, talking about, and playing with people some of our favorite tunes. Over the years we've been attracted to tunes for lots of different reasons, but some of the characteristics that seem to draw us in the most are: a good groove, rhythmic bowing and flow, droney fiddle tunings, a beautiful or quirky melody, the occasional bluesy inflection, a personal connection to the tune and/or its broader history, and tunes that allow us, ultimately, to make them our own. Hopefully, in this class, people will find some new tunes and techniques they'd like to include in their own repertoire and carry forward in their own way.
We'll present tunes from a few different regions, mostly the southeastern U.S., and source players who are old and young, living and deceased. We'll also include one or two of Judy's originals. Some will be in standard tuning on the fiddle, and others will be in "open" tunings that make the music flow and ring in a way we love. We'll talk about how we came to know or create the tunes, why they appeal to us, and in the case of the old ones, how they've likely changed in our hands. We'll also discuss some of the many ways players can develop their own repertoire and voice.
To introduce each tune, we'll briefly talk about it and play it for the group. Then we'll teach it, starting with the melody, but also demonstrating some of the fiddle bowings, guitar chords and bass runs, and banjo uke techniques. But, because the class welcomes all instruments, we'll focus a lot of our time on playing together as a group rather than offering detailed instrument-specific instruction. We'll balance our time so we can move through a few tunes a day, while also giving you enough experience with each tune that you can continue your learning process after the week is over. So, please come prepared to PLAY as a group and have fun! Audio/video recording is, of course, welcome and recommended, as are bringing a tuner and some extra strings. We're also happy to provide fiddlers and others with advance info about the tunings we'll use.
Bios
Judy and Jeff have a deep and abiding love of Southern traditional fiddle music and have taught at many camps, schools, and festivals throughout the U.S. over many decades.
They're co-founding members of the alt-folk-rock band, The Horse Flies (www.thehorseflies.com), about whom the New York Times wrote: "The Horse Flies have figured out how to hold a hoedown in a physics lab." Rolling Stone said, "They churn out swirling, addictive songs, blending tradition with invention." The Flies toured extensively in the U.S., Canada, and Europe; recorded 7 albums, including some on Rounder Records and MCA; appeared on a number of national radio and television programs (Prairie Home Companion, All Things Considered, Mountain Stage, eTown, MTV); and played a long list of festivals and concert series, including Central Park Summerstage, Telluride, Vancouver Folk, Winnipeg Folk, Festival of American Fiddle Tunes, and the Smithsonian Festival of American Folk Life.
Judy and Jeff have also created music for over 25 feature and documentary films (www.j2filmmusic.com), including two with The Horse Flies. And, in 2020, they produced Jake Blount's album, Spider Tales, which received strong reviews from NPR, Rolling Stone, No Depression, Paste, The Guardian, Billboard, and more.
Judy's been featured in Fiddler Magazine, was selected as one of their top 20 fiddlers in 2013, and was commissioned to create a new waltz to celebrate their 25th anniversary in 2019. She's honored that a number of prominent players have recorded her original tunes (e.g., Jake Blount, Tatiana Hargreaves and Allison de Groot, George Jackson, Rodney Miller, The Moon Shells). She's toured and recorded with Natalie Merchant several times and appears on two of her albums. She released an album of her original waltzes, Late Last Summer, with her father, pianist Dick Hyman, and she received an Emmy award for one of her documentary film scores. Critics have described her playing as haunting, gorgeous, sepia-tone, stirring, powerful, rousing, playful, impressive, and beautiful. (www.judyhyman.com)
Jeff plays backup guitar and banjo ukulele, and is a devoted fan of rhythm, groove, and drone. He also writes songs and sings. He's been written about in Acoustic Guitar magazine and has had his songs and music used by Natalie Merchant, film director Oliver Stone (in Any Given Sunday), MTV's Rock the Vote, and in the film, Buck. In his film scoring work with Judy he both composes and engineers.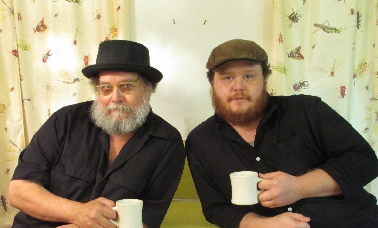 String Band Repertoire with Mick & Evan Kinney
Evan Kinney grew up in a family of old-time music in his native Kennesaw, Georgia. He learned the two finger banjo of Walter Hogson and Uncle John Patterson as well as claw hammer style. Also a fiddler and guitarist, Evan has performed and taught traditional music at John C. Campbell, Blue Ridge Old-Time Music Week, Festival of American Fiddle Tunes and Brooklyn Folk Fest.
Mick Kinney Mick Kinney has been collecting traditional music from local Georgia fiddlers, field recordings, and 78 rpm records for years. He enjoys passing on the exciting style of music played by The Skillet Lickers, Earl Johnson, and Bill Chitwood, as well as his repertoire of more obscure tunes. A full time performer and music educator, Mick has taught old time music at Swannanoa Gathering, John C Campbell Folk School, Mars Hill College Blue Ridge music camp, and Festival of American Fiddle Tunes. His recent recordings include three albums with The Georgia Crackers, In Dear Old Georgia volumes I & II, and a CD of his family band The HickHoppers.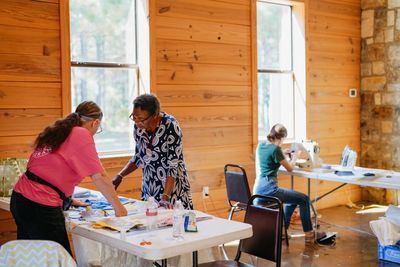 Gee's Bend Quilting with Mary Ann Pettway and China Pettway
The Gee's Bend Workshops at the Alabama Folk School provide a rare opportunity for quilters of all levels to sew alongside two of Alabama's famed Gee's Bend Quilters. China Pettway and Mary Ann Pettway are available to assist with hand and machine-stitching, and share tips for creating in the style of the Gee's Bend tradition. While everyone works, they sing gospel style spirituals and tell stories from their lives in the community of Boykin, Alabama. Students bring works in progress or fabric scraps to start something new. Depending on skill level, students go home with some quilt blocks or a full pattern and many good memories.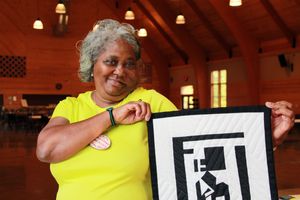 Mary Ann Pettway is the manager of the Gee's Bend Quilters Collective. She made her first quilt for the collective in the summer of 2005. The seventh of 12 children, Mary Ann Pettway was born and raised in Gee's Bend. After graduating high school in 1975, Mary Ann took college bookkeeping and accounting classes before working in a sewing factory for 20 years. Pettway is one of the lead singers of the Pleasant Grove Missionary Baptist Church and began quilting again after hearing about the trips the quilters of the community went on. "Before I started back to quilting, I was with (friend) Sabrina's grandmother Arlonzia a lot and heard about these trips they would go on (to other cities through The Quilts of Gee's Bend traveling exhibition.) So I told her, "I'm tired of hearing how good of a time y'all are having. I want to start having a good time too." So she told me, "well then start quilting!" And Mary Ann is, thankfully, still quilting today.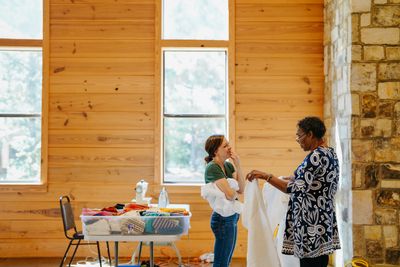 In addition to being a famed quilter, China Pettway is one of Gee's Bend's leading gospel singers. Singing is her beloved hobby. She is one of the few Boykin locals who attended college and returned to live in the community. Now a home healthcare provider, Pettway enjoys working with the elderly. "I love my patients and I think they are the most sweet and beautiful people you can meet." China was taught to quilt by her mother, Leola, at the young age of eleven. "We had to quilt until ten at night. Then, she would let us stop and get to bed. That was every evening except Saturday and Sunday. I made my first quilt, it was a 'Star.' And I still have it," she says. She and Mary Ann began teaching at the Alabama Folk School fifteen years ago.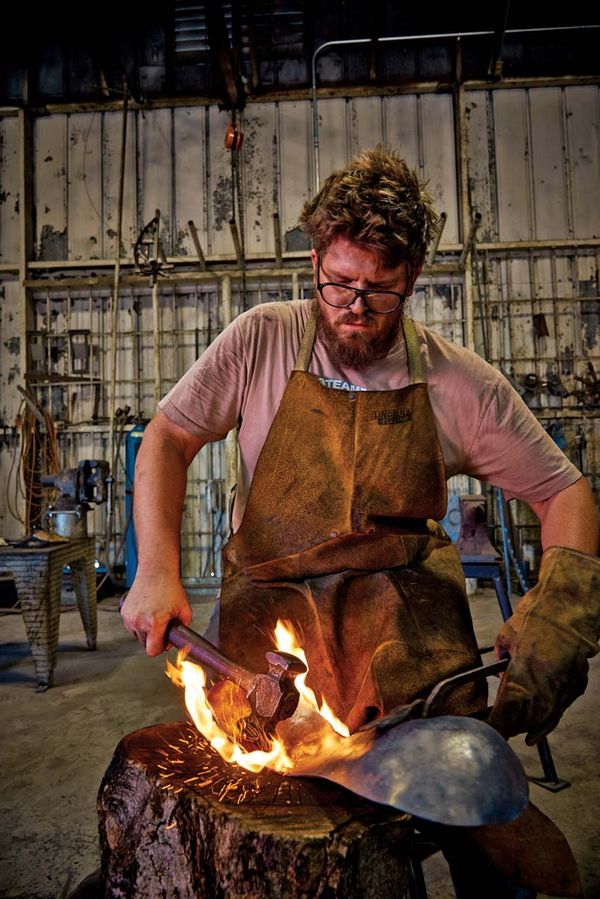 Blacksmithing with Brady Jackson
Brady Jackson was born and raised in Alabama and is a graduate of the University of Alabama. Brady has been a full-time professional blacksmith for ten years. With an educational background in archeology, he appreciates the intersection of form and function that is expressed in the blacksmith's craft. After managing an ornamental metal shop for 6 years, Brady opened his own shop, Jackson Forge, in Birmingham Alabama, specializing in forged architectural work in steel and bronze.